He was born in Catarroja (Valencia) and studied Singing and Music Theory, Saxophone, Piano, Harmony, Counterpoint and Fugue, Conducting and Dramatic Music. He has a Bachelor's Degree in Saxophone, Composition and Orchestra Conducting.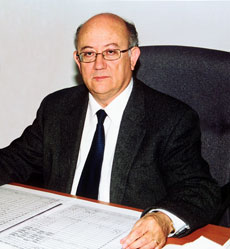 He conducted the Music Bands of Benifaió, Navajas and La Artesana in Catarroja. He was also the Founder and Conductor of the group Metales Catedralicios, in Valencia.
He has worked with prestigious soloists including F. Salanova, V. López and Maurice André. With regard to composing, he has written over three hundred works in the most varied styles and characters. His works have been performed in Spain, Italy, France, the Netherlands, Belgium, Portugal, Japan, China, the United States, Cuba, Venezuela, Australia, Mexico and Argentina.
He has been awarded many prizes, including the Villa de Almussafes National Composition Prize (1984), the Onda National Prize (1981), the Paterna Composition Prize (1974), the Joan Senent Ibáñez Prize (Valencia, 1977), and the Ciudad de Torrevieja International Prize (1983). He has also been awarded Conducting Prizes at the Ciudad de Valencia International Contest and Televisión Española Nueva Gente Contest.
He has been awarded many distinctions, including the Vinatea Prize, awarded in November 2002 for his teaching, composing and conducting career. He has been a member of the Music Arts and Sciences Academy since its founding. From his countless books and studies, his treatises "Apuntes de Armonía" (Notes on Harmony), "Lecturas" (Readings, which deals with transposing and sight reading), and the Counterpoint and Fugue treatise, are particularly worth noting. He founded and conducted the Band and Orchestra of Valencia's José Iturbi Conservatory of Music.
He is currently a professor of Orchestra and Composition Fundamentals, director of José Iturbi Municipal Conservatory of Music in Valencia, and president of the Association of Valencian Symphonic Composers.