Belgian Brass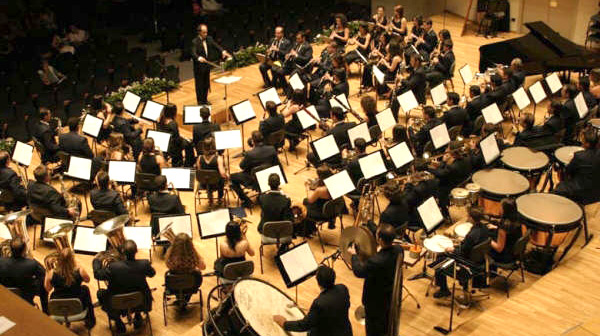 HISTORY OF THE BAND



Belgian Brass were formerly the Belgian Brass Soloists quintet until artistic director Manu Mellaerts had the idea of bringing together a larger, more all-round group of musicians to enhance the ensemble's artistic scope.

Thanks to this idea, the group was also able to bring greater energy to their repertoire and extend it to embrace more genres. Since then, Belgian Brass has not stopped growing and today the ensemble is firing on all cylinders, uniting flexibility and virtuosity. Incorporating a rhythm section has also meant that Belgian Brass is always able to tackle a wide range of compositions.

All of Belgian Brass' programs offer a subtle and balanced mixture of a wide variety of musical genres: from baroque to the Renaissance, contemporary classical and even big band; Belgian Brass has something for everyone.

During its short history, Belgian Brass has given concerts in Belgium, Luxemburg, France, Italy, Holland, the USA and Spain, and has recorded three CDs.

Their first CD, Pushing the Limits, has become the ensemble's calling card. It covers more than four centuries of the history of music, crossing the entire continent of Europe. As its title suggests, the musicians always aim to push their skills to the limit.

With Russian Heritage, Belgian Brass take their listeners on a stroll through the Russian musical landscape, captivating them with some gems by well-known and not so well-known Russian composers.

Belgian Brass has a special affinity for Flemish contemporary art and their third CD, From IO to Dandi, contains works which Belgian Brass commissioned from four famous Flemish composers: Jan van Landeghem, Jan Van der Roost, Dirk Brossé and Wim Henderickx.

Belgian Brass is a dynamic, energetic ensemble which strives for diversity and virtuosity.




BIOGRAPHY OF THE CONDUCTOR




Manu Mellaerts



Manu Mellaerts began studying music in the Music Academy in Tienen.

He studied with Jerome De Brouwer in the Royal Conservatory of Music in Brussels where he obtained the Higher Diploma for Trumpet and Chamber Music.

He then went on to continue his studies overseas, studying with Pierre Thibaud in Paris, Roger Delmotte in Versailles and Edward Tarr in Basel.

His first experience as an orchestra member was with the BRT Philharmonic Orchestra, a post he gained through public examinations. In 1986 he was hired to be first trumpet soloist in the Orchestra of "La Monnaie" Opera House in Brussels, a post he still holds today.

In 1994 he succeeded his former teacher, Jerome De Brouwer, as the head trumpet teacher at the Royal Conservatory of Music in Brussels.